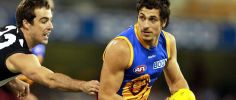 Pre-Season 2013, Player Analysis
JOINT WINNER OF $100 CASH PRIZE FOR BEST WEEKLY ARTICLE #3!

Every season coaches encounter the need to supplement their squad with midpricers. Even for coaches picking a squad ala "Guns 'N Rookies", finances generally necessitate the need for these high risk, high reward type players. Well, Lozza is here to help you sort through these pesky-priced players to find the next fantasy super stud!
Continue Reading